31 May

The Garage Conversion
We Give You 5 of the Best
Feeling a little tight on space at home? Think it all like its other little more if you were living right on top of each other? Perhaps it's time to rethink your garage space. If there is no dire need to store the car there, you could be getting far better value converting it into a vibrant living space. Here are five of our best ideas.
The teen/young adults' room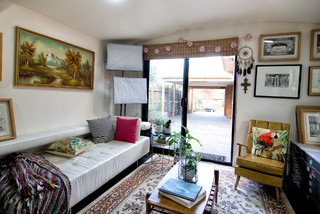 We're giving the teenagers' conversion top billing. Why? Peace and quiet. Think: no more shouting or squealing, no more TV noise or fiery debates, just a normal, peaceful household. And, if you have little ones, they can enjoy a little space of their own, so everyone wins.
To convert your cold, wasted space of garage into the most cherished conversion you've ever produced, clear and thoroughly clean the floor, paint the walls, then add some cheap beanbags, maybe a sofa, a TV and a station for the  games console and you've pretty much got things sorted. If you want to go further, you can throw in some indoor plants, posters and funky lights and before you know it, you may find yourself begging to see them again. Or maybe not.
The home office space
Another hot favourite, the home office will give you the peace and quiet to get a lot more work done. Working from home is easier said than done with constant interruptions and distractions so having a private space of your own could be the escape you need.
All you need for an office conversion is a clean, tidy garage, preferably freshly painted, with a desk, chair, power supply and you're done. If you want to go further, and possibly even convert space to an operable business with additional staff, use the space cleverly. Add economical floor to ceiling bookshelves for stacking and storage, a fridge, TV screen and anything else your business may require. The only thing you'll be missing is high monthly rental fees.
The home gym
Thanks to smart apps, thousands of people that struggle to find time to drive to the gym can now work out at home. That is, if you can find the space. Enter: the home gym. Turn your unused garage into a home gym, and along with your favourite app, you can easily work out at home.
Not disciplined enough to go it alone? Invite a couple of friends over and make it a regular session. This way you'll get invaluable social time while everyone stays motivated.
Essentially ingredients are basic with a home gym set up – you'll need a clean floor, (ideally) a TV monitor, and a couple of exercise mats. Over time, you can add more equipment, weights, bolsters and whatever else you fancy. And if you're worried about the price of gym equipment, don't be. There are thousands of pieces of gym equipment going cheaply on Gumtree. Just take a look.
HOT TIP: if you've created a nice little space and have a couple of regulars dropping by, one of think of going one step further, formulating things a little more in charging (super affordable) membership?
The toy room
Back to the kids again. But this time we're talking about the small, cute ones. If you can't see the floor for the toys, why not take all the kiddy clutter out to the garage? A toy room will allow the little ones to have hours of chaotic and uninterrupted fun. You can enjoy the luxury of not having to clean up every hour and feel confident knowing that your house looks that much smarter – most of the time.
Garage floors are usually made of cement and notoriously hard, so it's worthwhile investing in some cheap rubber floor matting to help avoid any nasty falls–and also to help absorb sound. You can paint the walls bright colours, add some fun alphabet mats, well-placed storage cabinets and soft furnishings – devoid of hard edges that could cause nasty accidents. Remember that adults will need to be in there to supervise sometimes, too, so add a couple of comfortable grown-ups' chairs for relaxed supervision.
The man cave/toolshed
Highly underrated – even despite its popularity, the man cave is essential on many levels. Almost every bloke wants their own space, and a little time away does wonders for all concerned. Besides, no one wants random tools scattered around their home or van, so keeping all the tools in one designated space is an excellent idea.
Picking out a man cave can be as simple or as elaborate as you want. Popular accessories include TV (of course), fridge (of course), a couple of comfy chairs, floor to wall storage, good power supply and you'll have a place to tinker for hours on end.
Call Guardian Doors Perth today on 9408 1602!